September 25, 2017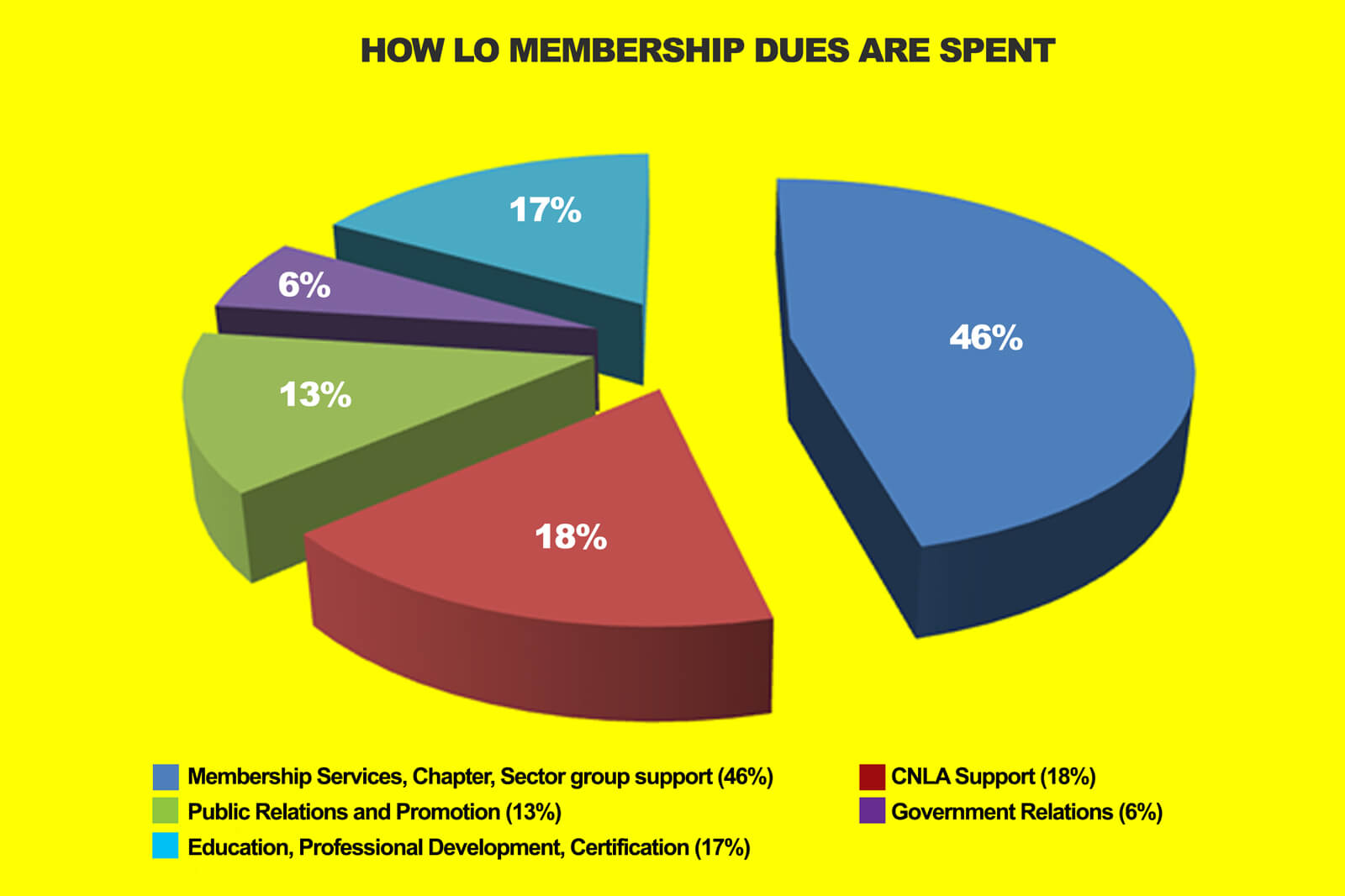 Where do LO dues dollars go
Each year, Landscape Ontario's fiscal year ends Aug. 31 and a new year begins Sept. 1. For LO members, this date is critical because it means their annual membership dues also expire each year on Aug. 31.

Dues renewal invoices are mailed out to each and every member in mid-August. Don't risk losing the many financial and networking benefits you enjoy as an LO member by not renewing your membership.

Dues can be paid online via LO's secure dues payment page at horttrades.com/dues or by simply mailing a cheque back with the bottom portion of your invoice. You can also call the LO home office at 1-800-265-5656 and pay your dues by credit card.

The cost of annual dues varies from $185.32 for a Horticultural (personal) membership to $737.89 for an Associate (supplier) membership. The nearly 500 Associate members account for 20 per cent of the LO membership. The majority of LO members (1,750) are Active members (contractors and other specialties) who pay $612.46 annually, accounting for over 65 per cent of the over 2,500 LO members. With about $1.2 million in dues revenue collected each year, have you ever wondered how the money is spent and how much it accounts for association activities?

Of the dues money collected, LO then pays the Canadian Nursery Landscape Association (CNLA) a fee for every Active and Associate member to then also become a member of CNLA. This allows those LO members to reap the benefits of CNLA's national cost savings programs that are exclusive to members and to the landscape and horticulture profession. CNLA uses this group buying power of all the provincial association members to negotiate fantastic discounts on new equipment, business services and a wide range of programs. CNLA is also active at the national level, lobbying government and its various agencies on legislation, funding and programs that impact the profession. CNLA receives a payment from LO of around $300,000 each year. That leaves LO about $700,000 to $900,000 in the bank to run programs and services for members. For a breakdown of the percentages each of those areas include, see the chart above.

Almost half of LO dues are spent on membership services. LO's nine regional chapters are allocated funds each year based on the number of members in each chapter. These funds, as with the $3,000 allocated each year to each of the 11 sector groups, are for initiatives decided upon by the chapter or sector boards or to run meetings. Chapter and sector funding totals just over $100,000.

LO undertakes many public relations initiatives to promote members to potential clients and to educate the public on the many benefits of hiring a landscape professional.

Education, professional development and certification help to raise the skill level of members in order to make them better in their business and improve business success.

In the bigger picture, LO employs a full time staff of 25 people, plus two contract employees and three part time chapter coordinators, who work to carry out the many programs and services from the home office in Milton, Ont. Salaries, office and building expenses, plus expenses incurred to run the many programs, means an operating budget for the association of nearly $5 million. LO can't employ staff to carry out the programs simply on dues revenue alone. Salaries account for about $1.6 million (32 per cent) of the association's annual operating budget.

To generate more revenue for expenses and to maintain the LO site, the association has many other revenue-generating initiatives, such as the Congress trade show and conference, industry publications (Landscape Trades and Landscape Ontario magazine), the Professional Development Seminars series, various events, symposiums and conferences.

So how is dues money spent? Basically, it helps to fund the various programs and initiatives that carry out the mandate of the association: "to foster a favourable environment for the landscape and horticulture profession in Ontario." And your dues contribute about 15 per cent of the money required to run the association.