February 15, 2015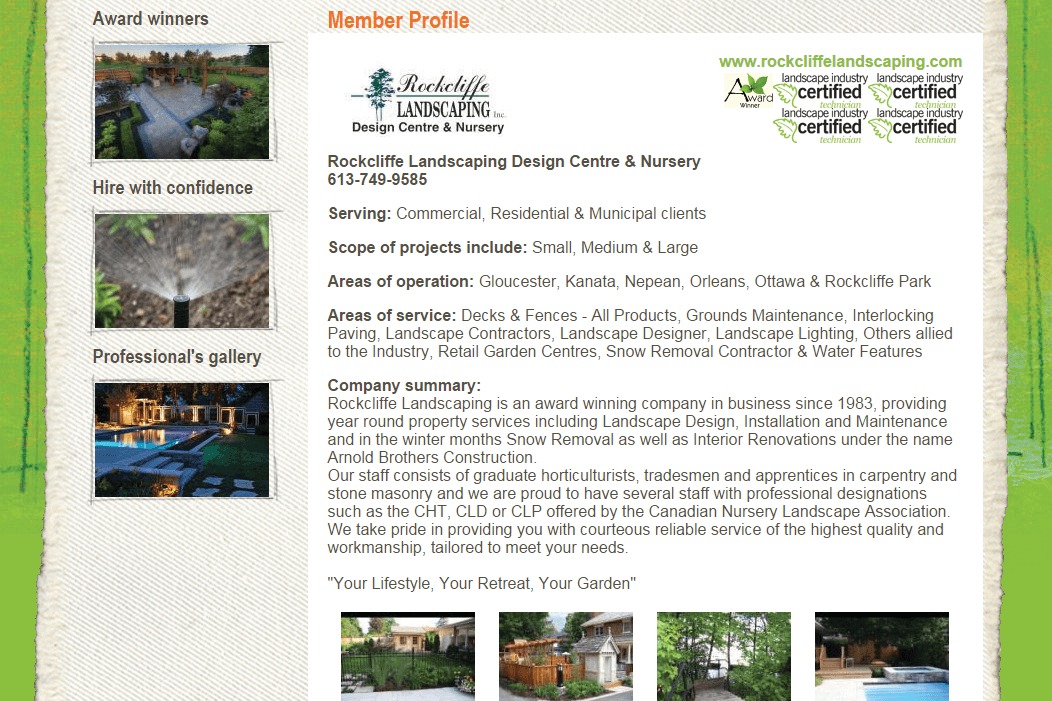 Using your resources: Online member profiles
By Myscha Stafford
Membership and Chapter Coordinator


I hope you all had as wonderful an experience at Congress, as I did. I would define the show as 'wow.'

As a first-timer, I was blown away by the sheer awesomeness of the show and the incredible turnout of our members and exhibitors. It was great to see all of you there and I thank you for continuing to support our association. I was lucky enough to wander the show and even attend two seminars. The excitement and enthusiasm of all attendees was contagious.

Having visited some of our members on job sites this summer, I have seen how thrilled your clients are at the ways that you have, to quote Tony DiGiovanni, "enhanced their lives." They are as impressed with your work as we are, and I think this needs to be showcased. A great way to do this is through your free online profile on our consumer site, landscapeontario.com.

Consumers use this site to find member companies. They can also browse through our list of Award winners; what a great way to market your company and show off your talents! This site receives up to 50,000 unique visitors per month. That's a large market that you have exclusive access to as an Active member of LO. Unfortunately, the online member profiles are an underutilized resource. It requires very little time and maintenance on your part, unlike a lot of other promotional methods. This is your very own page on the site, where you can post your own logo, photos, testimonials and other information — and it's free.

Take a little time this month to complete this quick project that will provide tremendous rewards.

You can create your online profile in three easy steps.
Step 1:
Go to www.locc.ca. You will then be prompted to login to the secure site. If you've never done this, no problem; you can set up your account right there. If you've forgotten your password, again no problem; you can reset it right there, too.

Step 2:
Once you're logged in you will then see a variety of options to select including seminar registration, Source Book listings, etc. On the right hand side of the page, you will see, "Is your company an active member? Create a Member Profile." Select this option.

Step 3:
Upload your logo and provide your company's information and a description that you want a potential client to see. Click and save. Please keep in mind that this tool is open only to our Active members. Fear not Associate members, you too can promote your company on our Associate members list available online to all LO members, through the industry leading product reference guide, the Source Book, as well as the Landscape Trades and Landscape Ontario publications.

February is shaping up to be a busy month, so if you are looking for something to fill your calendar we have a plethora of events for you. The Durham, Waterloo and Toronto Chapters all had meetings within the first week, and the London Chapter hosts its annual safety meeting on the 10th. If you find yourself in Eastern Ontario on the 10th, come join us in Ottawa at GreenTrade Expo's inaugural Awards of Distinction Gala, followed by the trade show on the 11th. We'll be celebrating Family Day in style at the Golden Horseshoe Chapter's Family Fun Skate at the Gateway Ice Centre, followed by the 4th annual I Was There Squash Tournament, brought to you by the Upper Canada Chapter which is also hosting a meeting on the 18th, along with Georgian Lakelands Chapter's meeting the same day in Huntsville, featuring issues with septic systems and a round-table discussion on best practices and lessons learned. If that's not enough to fill your calendar, Georgian Lakelands Chapter hosts the annual Ski and Spa Day on the 26th and the Windsor Chapter wraps things up this month, also with a meeting on the 26th.
---
Contact
Myscha Stafford
with your questions about LO member benefits.