January 26, 2023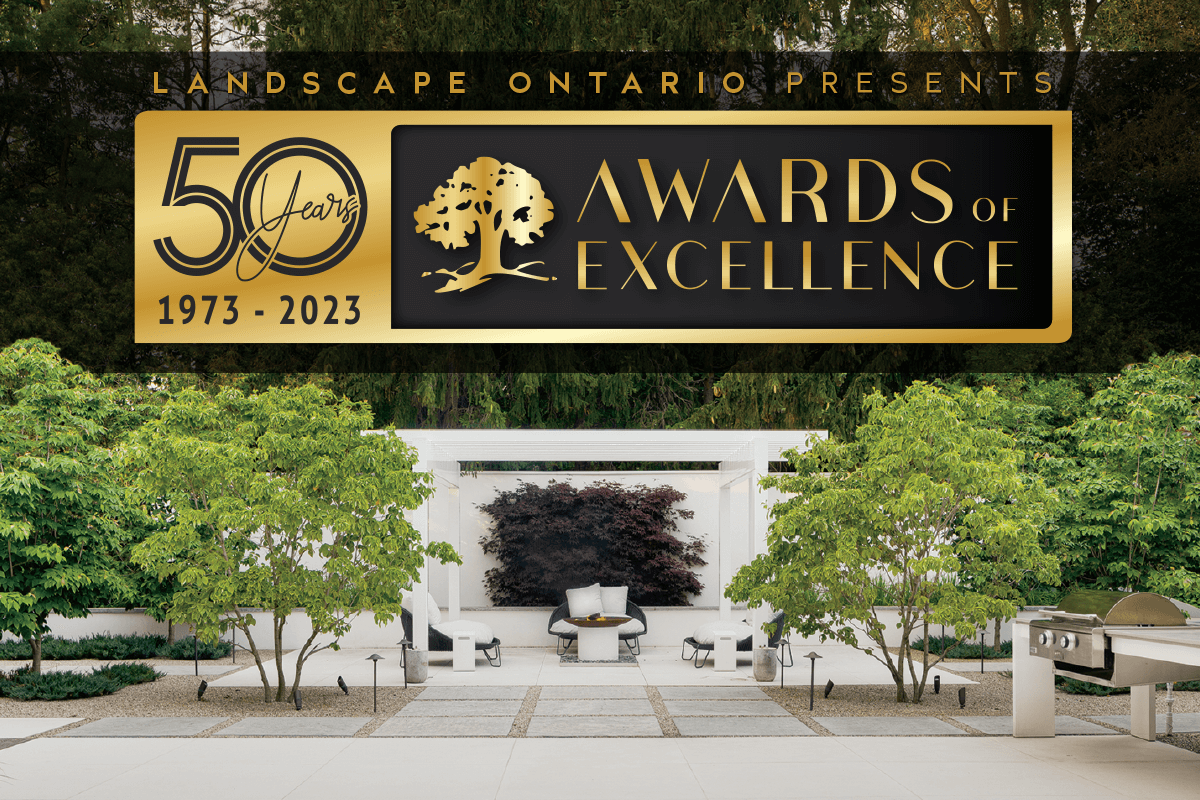 Landscape Ontario announces 2023 Awards of Excellence winners
Landscape Ontario's Awards of Excellence program celebrated 50 years of the best landscape projects in Ontario with a sold out evening celebration on Jan. 10, 2023. About 650 landscape and horticulture professionals packed the ballroom at the Delta Hotels by Marriott Toronto Airport to see over 250 awards announced live during an entertaining and emotional evening.
The annual Awards of Excellence gala recognizes breathtaking design and master craftsmanship in landscape construction, maintenance, design, landscape lighting, and interior plantscape projects.
Hosted by Carson Arthur, landscape designer and television personality, the winning projects featured outstanding levels of craftsmanship by Ontario's landscape professionals, ranging in value from $10,000 to over $1 million.
Over 250 awards were presented, of which 11 projects were awarded the Green Stamp Award by the judging panel. These projects exemplify green practices, using quality construction, maintenance and design, in sustainable landscapes, such as: use of permeable paving, native plantings, water conservation strategies and green roof technology. All entries are judged according to specific criteria by industry experts. If no project qualifies for a specific category, then no award is given.
The top four awards presented at the conclusion of the ceremony were:
2023 Dunington-Grubb Award, for the most outstanding and highest overall scoring project in the various construction categories.
Winner: Wentworth Landscapes
2023 Casey van Maris Award, for the highest marks for execution of unique and innovative design in landscaping
Winner: Niagara Outdoor
2023 Don Salivan Grounds Management Award, for a project in the maintenance program that when properly executed, protects or even enhances the value of the original landscape investment.
Winner: Wentworth Landscapes
2023 Neil Vanderkruk Award for Excellence in Landscape Design, for the highest overall scoring project in the design category.
Winner: Jennifer Hayman Design Group Inc.
The awards program includes a number of special awards that recognize the longstanding contribution of outstanding individuals and initiatives. Candidates are submitted by nomination only and an award is only given out under exceptional circumstances. This year's Special Award winners are:
Sean Christie - 2023 Young Entrepreneur Award, for outstanding achievement in establishing and growing a successful horticultural business and is under the age of 35 years.
Steve Hernandez - 2023 Water Conservation Award, for a person or irrigation project that demonstrates water stewardship, conservation and innovation while maintaining thriving landscapes.
Gavin Dawson - 2023 IPM Leadership Award, for achievements in the turf and/or tree industry, has contributed uniquely to enhancing or promoting the future of our industry for mutual and beneficial gain.
Carla Bailey and Lindsey Ross - 2023 Peer to Peer Mentorship Award, for a member of the group who demonstrates exemplary mentorship during the year.
The awards ceremony was held in conjunction with the Congress Trade Show and Conference, which was held at the Toronto Congress Centre, Jan. 10-12. Also celebrating its 50th anniversary, Congress smashed all previous attendance records, with 17,662 visitors attending.
The awards program is an initiative of Landscape Ontario Horticultural Trades Association, the largest landscape trades association in Canada.
Online entry for next year's Awards of Excellence program will open for Landscape Ontario member companies on July 1.
The awards ceremony is made possible through the generosity of Presenting Partner: G&L Group, and Supporting Partners: Connon Nurseries, in-lite Outdoor Lighting, SiteOne Landscape Supply, Unilock and Toro.
Top scoring winners will go on to represent their province at the
National Awards of Landscape Excellence
. Winners will be announced in August 2023.
A replay and highlights of the 2023 awards ceremony can be found on the
awards website
or on
Landscape Ontario's YouTube Channel
.
Award winners can be viewed online at:
https://loawards.com/50th-annual-awards-winners
A list of winners by category is
available here
.