August 30, 2022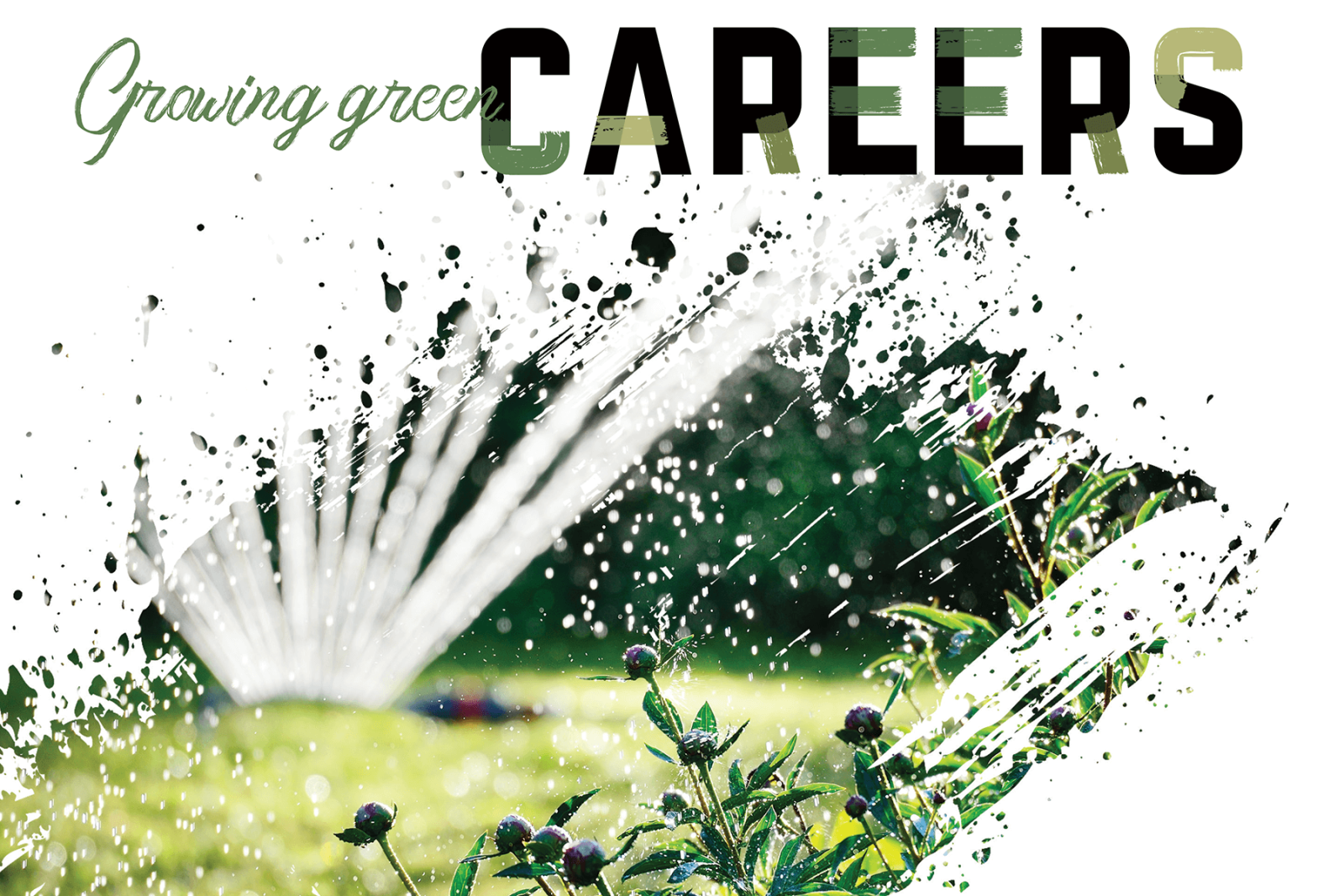 Growing green careers: Verdant Landscape & Design supports apprenticeship
Interview by Scott Barber
Matt and Morgan Robertson are the father and son team behind Verdant Landscape & Design, a full service landscape company based in Milton, Ont. The Robertsons are deeply passionate about education. In fact, both are graduates of the Niagara Parks Commission School of Horticulture (NPCSH). As business owners, they encourage staff to grow their skills through the Horticultural Technician Apprenticeship Program.
Apprenticeship is something they know well: Matt is a program instructor at Mohawk College, and Morgan earned his Red Seal certification at NPCSH. They both joined Landscape Ontario Podcast host Scott Barber to talk about why they believe apprenticeship is a win-win for employers and their staff. They also brought current apprenticeship students from their team, Barb MacIntyre and Bret Measor, to speak about their experience in the program.
Tell us about your company, Verdant Landscape & Design
Morgan Robertson:
We started our company in 2018. We're based out of Milton, and we're a design, build, and maintenance company. I do most of the designs: interlock walls, water features, lighting, all the usual things. Our focus however, is in garden design, planting, and maintenance. With both of us being Niagara Parks grads, that's really our passion — the softscaping side of things. But we do try to incorporate a bit of everything to get a nice flow and aesthetic for our clients. Our focus is definitely quality based, not price based.
How did you get involved with apprenticeship?
Matt Robertson:
Well, it started with me teaching. I have been teaching in the Apprenticeship Program for a long time and when we started expanding and looking for employees it really made sense to look for apprentices. The reason being that sometimes we have had employees that come with some bad habits, or habits that don't fit with our company's ideals. So having someone like Bret and Barb on board that we can train in best practices is amazing. We interact with so many students with different ideas as well, so there is also the benefit of being able to bring the ideas that Bret and Barb have into our company and helping us even maintain a higher level of quality and customer service.
Barb MacIntyre, Bret Measor, Matt Robertson and Morgan Robertson on a jobsite in Milton, Ont. this summer.
---
What was your personal experience like in the Horticulture Technician Apprenticeship Program?
Morgan:
My experience was a bit more unique than many other apprentices because I did mine through the Niagara Parks School of Horticulture, so I was able to actually get a diploma as well as complete my apprenticeship at Niagara Parks Botanical Gardens. So a lot of the class time was immediately transcribed into the practical portion. I learned how to prune trees and then we would go out and prune trees, and the apprenticeship I wanted to be able to do was something where I could take those classroom experiences and then bring it into the job site. So that experience isn't that different from the traditional apprenticeship that is available through Mohawk, Humber, Fanshawe and Algonquin Colleges, where you do classes in the winter and then in the next season you are able to bring that knowledge to the job site and actually incorporate it in your work.
Why is teaching and supporting the next generation of landscape professionals important to you?
Matt:
I've been involved with Landscape Ontario in different capacities for a long time. One was on the landscape sector group and the biggest complaint has long been the lack of trained staff. I enjoy teaching; it's my way of giving back to the industry as a whole, because there is a better trained workforce. And the better trained the workforce is, the better the perception of the industry is. The overall quality, and the profitability, climbs as well. Sometimes I feel that our industry has that poor reputation in the public's eye, and when we bring on employees that are knowledgeable, confident and well-spoken, it says to our clients that we're worth the money, we're a valuable company to our clients. And when I help with another company it's not taking away from Verdant Landscaping, it's adding to the industry as a whole. And what do they say? 'The rising tide lifts all boats.'
Can you explain how you got into the apprenticeship program?
Barbara MacIntyre:
It's somewhat of a unique story. I had been working in the interior design industry for the past almost 25 years, but in 2020 I lost my job. Being a farm girl, I had always enjoyed working outside, so one time when I was home visiting my mom on the farm I told her, "I think I want to go back to school for landscape design." And that's what I did. I enrolled in the Landscape Technician Program at Humber College. And then the next thing that happened was I met Allan Nason, who is a horticulture teacher at my daughter's school, Notre Dame Catholic Secondary School in Burlington. And Allan, knowing that I was studying at Humber, recommended I reach out to Matt Robertson with Verdant Landscaping.
So that's what happened. I completed my semester at Humber and now I'm moving over to the Apprenticeship Program. You know, things happen when you talk and so I owe a lot to Allan and having him connect me with Matt and Morgan. Having worked in the design industry for as long as I have, it's the knowledge base that you need to be a good designer. I kinda have a little motto: I would like to take my interior design skills outside.
Can you describe your path and how you came to the Apprenticeship Program?
Bret Measor:
I originally started in construction work, so I was doing home renos. I eventually got tired of working outside, so I became a game designer and did that for 15 years. Then I got tired of being inside, so I was trying to figure out how to get back outside, but I didn't want to climb ladders around houses anymore. Eventually, I landed on landscaping. So I applied to a countless number of places before one company gave me an opportunity. So I started with just basic lawn maintenance and a little bit of the gardening and once I started doing the gardening I knew I wanted to learn more. That's when I learned about the Horticultural Technician Apprenticeship Program — and I decided to go for it.
I thought the opportunity is there, why not? I wouldn't mind learning more about this and that's how I got into the program was through that company. Then I met Matt and he was my teacher for multiple classes and he would always answer my random questions. I would always have random thoughts and I would always be like: 'Hey Matt, what about this idea' and he would always take the time to answer me back. I was like, 'alright cool, this guy knows what he is talking about.' So eventually the first company that I was working for sold their company and then I just approached Matt and said: 'Hey man, what are you up to? Do you need anyone?' We just talked for a little bit about it and eventually, one thing led to another where I was able to come and start working for him and it's been a blast. It's exactly what Barb said: we just work and learn. It's just working and learning and that's exactly what I want out of the whole thing is to learn more about what I'm doing.
What would you tell someone who is thinking about a career in landscaping? Would you encourage them to consider apprenticeship?
Bret:
I would say yes. It's a really great starting ground to get you going. There's a lot of things that you learn in the program; it's a bit of everything. And once you gain that knowledge you start working and it's like: 'Well, now I have this nugget, where can I go afterwards?' because this field is very broad and there's a lot of areas that you can probably become an expert in. So I looked at it as if this is something where you want to start and see if this can spark something. I feel like I am going to keep on learning now.
Barb:
I don't think you ever stop learning. One thing to remember is that it's not a cakewalk. I think there's a misconception that landscaping is just going out and cutting grass. But with a company like Verdant, we do a lot more than that and we really love working in the garden. I enjoy learning hands-on. That's how I learn, and being able to stop and ask questions is key. But if it is something you want to pursue just be prepared. It is a lot of work, but you are going to come out knowing so much more and knowing the right way.
Bret:
When I first started I knew nothing about plants and even talking to a client that would just come up and say hi and be like 'what is this?' I would be honest and say I don't know what this is, but now after doing the program, I have a better idea of what this plant is. Going through the program gives you more confidence when dealing with clients or even your own bosses, it just helps.
What would you tell another employer about the program? Why should other business owners encourage their staff to pursue the Horticultural Technician Apprenticeship Program and earn their Red Seal?
Matt:
From teaching for so long, what I have heard from employers and employees is the challenges of dealing with the government/ministry and registering and everything like that. Landscape Ontario and their staff has taken all the guesswork out of it because it's a cakewalk now for an employer to sign up employees. So that's number one: it's really easy. Two, you get a better person at the end of the training season, first and second level. Someone better comes back. And the last one is the tax credits. It's almost a no-brainer to bring on an apprentice as opposed to just a labourer.
Morgan:
You heard it from Bret and Barb: the confidence that it instills in your employees. You have both a better trained employee, someone who has a better idea of what is going on and they might be more comfortable talking to clients, so your internal promotion is a lot easier. You don't necessarily have to reach out and go looking for a foreman or a site supervisor. You bring on the labour that you had last season that now is trained, and who is able to lead and train other people internally. From a practical standpoint that leads to a higher employee satisfaction and a longer staying employee. They're more likely to stay if they see growth within a company; they're not just going to be the labourer that hauls wheelbarrows or lays stone the whole time. They can see themselves doing other positions within the company itself and I think that's pretty powerful.
Matt:
Terry Murphy, he used to be a part of Landscape Ontario for many years (as Director of Education and Workforce Development). He has a saying that echoes through my mind forever: "The only thing worse than training an employee and having them leave, is not training them and having them stay."
This interview was adapted from an episode of the Landscape Ontario Podcast, published in September 2022. To listen to the podcast, visit landscapeontario.com/podcast, or search for it on your favourite podcast app.