March 23, 2023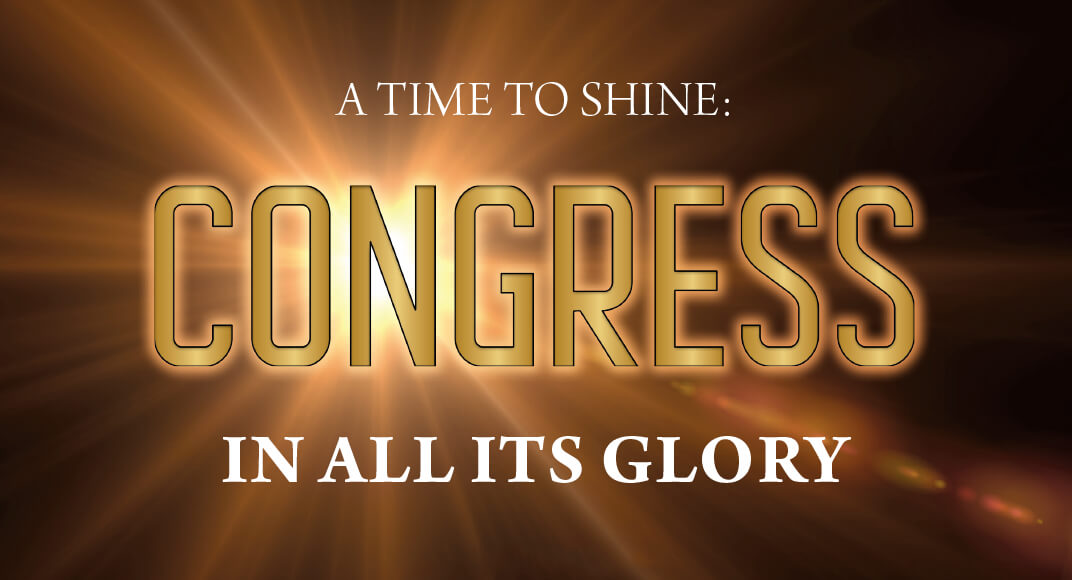 A time to shine: Congress in all its glory
By Karina Sinclair
For three days in January, the Toronto Congress Centre seemed like the hottest club in town. Long lines of pickup trucks snaked far down the street, and horse-mounted police arrived to keep things moving. Exterior signs flashed glittering black and gold messages about homecoming. And thousands of people rushed through the door only to pause in awe as they took in the scope of the opportunity before them.
This was the long-awaited, and much anticipated, 50th anniversary of Landscape Ontario's Congress trade show and conference.
Something for everyone
It seemed everyone, whether dressed in a three-piece suit or hi-viz and flannel, smiled with anticipation as they flipped their lanyards over their necks and took selfies by the giant 50th anniversary logo right at the trade show entrance. They'd consult their show guide or mobile floor plan map and head off to explore many of the 425 booths waiting to welcome them.
Three halls, spanning eight acres, were abuzz with conversation, inquiry, and deal-making. There was something for everyone, from gleaming heavy equipment to cushioning boot insoles. Familiar brands were there with expansive booths and teams of staff to answer questions and explore new trends. There were also many new companies on hand for the first time to gain exposure and build relationships with partners and customers. And of course, any booth worth its road salt offered swag.
Trends
Some observed trends would affirm professional landscapers and horticulturalists were looking for environmentally friendly solutions, such as sustainably sourced, organic growing media and alternatives to chemicals for weed control. Many equipment dealers reported an increased interest in battery-powered equipment. Todd Zimmerman, VP of product development at Kress, said "There's municipalities, homeowners associations, government, federal regulations that are coming down the pike that these landscapers and dealers are paying attention to. That's going to make it necessary for them to convert over to cordless." Brittany Sammut, a parks equipment operator, said she was looking for electric backpack blowers that held enough charge "to be able to complete the job that we specifically need it for."
Mark Bronson, a dealer rep at the Kubota booth said potential buyers were asking about comfort features. "They want to know what changes are made. What makes them easier to operate? What comfort features?" Bronson said that's an important consideration for workers who have to sit in an excavator or skid steer for eight hours a day.
At United Floral Distributors, first-time exhibitor Melissa Wright said she was surprised to see so much interest in Christmas greens in January. "And the tropical plant trend is so popular now," Wright said. "More landscapers are incorporating tropical plants into their outdoor container arrangements."
Other noted trends included modern-style porcelain pavers, pre-built outdoor kitchens, and compact gear with narrow footprints. And of course, new products were popular in any category.
Career growth
As much as Congress is a showcase for materials and equipment, it's also a place to connect with jobs and learning opportunities.
"It's a really nice way to connect with employers," said Andrea Gynan, wholesale trade desk supervisor at Connon Nurseries. She shared how attending the 2019 Congress led to her meeting the owners of Connon and eventually working for them. "There's a lot of graduating students coming through, and it's a really nice way to get in touch with a huge range of different employers here in the landscape industry."
Aisha Hussein, the program director for ApprenticeSearch.com, agreed that Congress was a good place to build connections. "Landscaping and horticulture in general is an industry that has really struggled to find good candidates," Hussein said. "I think it's a great exposure for them to come here even to see services like ours who can help them find those candidates, and also to learn about different grants and incentives."
Job seekers also had a chance to browse open positions and meet hiring managers at the Landscape.job Live! booth. This initiative, facilitated by Landscape Ontario's GROW and Apprenticeship training teams, served to help employers connect with potential employees in person. Scores of students from Ontario colleges and apprenticeship programs filtered through, gaining a glimpse of what their future career could involve.
Congress also offered growth potential for seasoned professionals. Live demos on interlock best practices, collaborating with designers, greening urban environments, soil health, and vehicle safety were open to all. A purchased conference pass gave attendees access to 18 seminars led by industry experts, with recordings available for later viewing.
Thoughtful touches
Weary attendees could kick back in company of a giant moose at the Muskoka-styled Patio Lounge. This served as another popular selfie backdrop. Families with young children were often spotted here, suggesting the long tradition of generational landscaping businesses continues.
The friendly team at the Landscape Ontario membership booth greeted familiar faces, while helping new members learn about all the many benefits available to them.
Thirsty wanderers could wet their whistles along the Ale Trail, including a stop at the Landscape Trades booth — the official media partner of Congress. Not only could one get a beer sample there, but also a free subscription to the national magazine dedicated to landscape and horticulture professionals.
Homecoming
Hugs, back claps, shared laughter — all human elements that have been rare since 2020 — were happening everywhere at Congress. "It is my favourite week of the year," said James Riddell from SiteOne Landscape Supply. "If you're not here, you're missing out on an opportunity for great education and to potentially expand your business horizons."
While handing out maple syrup at the Greenhorizons Sod booth, Mike Schiedel said: "I feel that most people in the industry plan to come here year after year, meet their suppliers, talk to their customers. This is where everybody gathers."
John Kudlowsky from G&L Group agreed. "It's community," Kudlowsky said. "It's not just trying to sell something. It's a community that we feel we're a part of."
That sense of community was palpable. Throughout the show floor, there were friends shaking hands, saying how do you do. There were trees of green thanks to the nursery booths, and some red roses too. Perhaps Louis Armstrong was singing about Congress. What a wonderful world indeed.
---